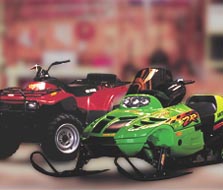 CUBE Auto Supply
& Recreation
We are a full service dealer, providing you with genuine Arctic Cat parts, garments and accessories for your Snowmobile, ATV or Generator.
We are open every Sunday for the convenience of our customers.
Click on buttons on left to see
our current inventory (new and used) and detailed product descriptions.
Click on thumbnails on right to go to
a descriptive page and larger image.
These prints are for sale and available in limited quantities. Just follow the instructions on the descriptive pages.